Network-Integrated Embedded Computers
The AB3000 'Series N' from Astronics Ballard Technology is a highly-flexible, COTS solution ideally suited for a distributed system architecture on civil and military platforms. This compact device merges 64-bit Quad Core processing, high throughput Gigabit Ethernet, and a wide array of conventional avionics I/O into a powerful control and communication solution that provides rapid deployment with no up-front NRE.
Avionics I/O Powerhouse
The AB3000 Series N is optimized to interface with, collect, process, and distribute avionics data. The unit can serve as the main infrastructure component for a distributed system architecture (mission system), or be employed for a variety of interfacing, bridging or control operations. I/O options include MIL-STD-1553 and ARINC databus protocols, serial, discrete, USB and Ethernet. The integral, 8-port Gigabit Ethernet switch interfaces with a variety of systems and reliably moves large amounts of data to where it is needed.
Rugged and SWaP-C Optimized
The AB3000 Series N tightly integrates all of this functionality into a small, lightweight SWaP-C optimized (Size, Weight, and Power plus Cost) enclosure that meets military requirements for shock, vibration, temperature, humidity and pressure. It is small and light enough for use in UAVs and capable enough to handle complex, large-scale aircraft systems.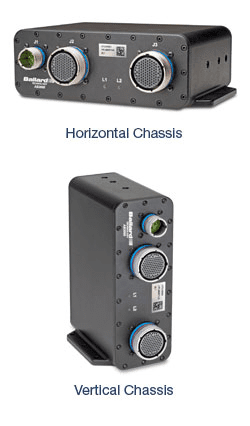 Key Features
Key component of an aircraft distributed system architecture
QorIQ® 64-Bit Quad Core Processor
Integral 8-port Gigabit Ethernet Switch with managed or unmanaged operation
Flexible write protect capability
Wide range of avionics and computer I/O including: MIL-STD-1553, ARINC 429, 717, Serial, Discrete, Ethernet, and USB 2.0 Host
Pre-qualified COTS hardware solution
Robust SDK to facilitate the development and deployment of customer software
Ideal for Open Mission Systems (OMS) implementations
Powerful Application Solutions
The AB3000 Series (also called the Avionics BusBox 3000 or simply Ballard Box) is a small form factor system that delivers outstanding performance on the ground or in the air. It is easily deployed on UAV, helicopter, fixed wing, and ground mobile platforms. Here are just a few uses:
Data and protocol conversion
Databus and network bridging
Data serving
Data recording
Power controllers
Federated controllers
Ethernet switching
https://www.astronics.com/ballard-technology/avionics-i-o-computers/ab3000-series-n-avionics-i-o-computers