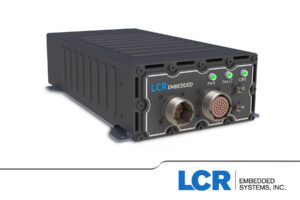 LCR Embedded Systems has released a new rugged, single slot packaging solution designed for 3U VPX and SOSA aligned payload cards supporting high-speed connectivity with RF, GbE, 10GbE and optical interfaces. The AoC3U-100, part of LCR's air over conduction cooled (AoC)  chassis line, addresses a wide range of EW / ISR and radar uses in both ground and airborne assets where size constraints and functional performance are key.
Intended for use in counter ISR systems, multi-mission EW, navigational systems, air and ground surveillance radar, fire control radar, on the move radar, multi-mission radar systems and more, the compact and lightweight design enables deployment in demanding environments.
Designed to maintain safe operating temperatures for high power VITA 48.2 conduction cooled payloads, the chassis combines forced air with conduction cooling to dramatically increase cooling capacity versus passive cooling, while leveraging readily available VITA 48.2 plug in modules. A small form factor 28V power supply provides MIL-STD-461 protection for 12V 3U VPX and SOSA aligned modules.